Floor mats are one of the most important, but sometimes underappreciated, elements of a business. They can keep your employees and customers safe, and they can also spare you the expense of floor repairs due to years of wear and tear. In today's post, we'll take an in-depth look at four different floor mats your business might not have, but should.
When you've finished reading today's entry, be sure to look through The Mad Matter's extensive catalog of commercial floor mats. We have a wide variety of floor mats that can be customized to fit your needs, and we'll gladly help you find the ideal products for your business!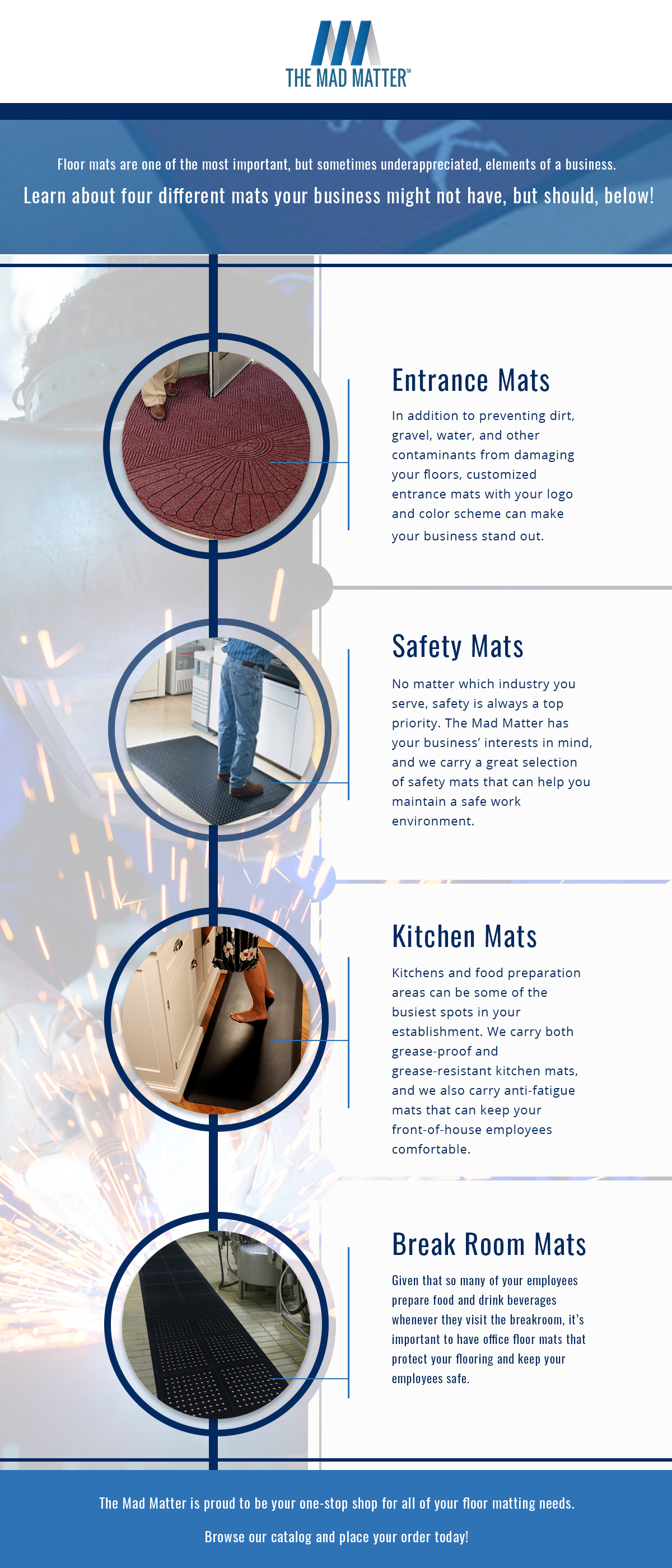 Your Business Needs to Invest In…
Entrance Mats
Entrance mats serve a number of different functions. In addition to preventing dirt, gravel, water, and other contaminants from damaging your floors, entrance mats can also help you make your business stand out from the competition. We proudly offer logo mats that can be completely customized to fit your needs. Whether you want an entrance mat that displays your company's logo in bold, crisp colors, or you need seasonal entrance mats that showcase your newest promotion, the floor matting experts from The Mad Matter can make it happen!
Safety Mats
No matter which industry your business serves, safety is always a top priority. You don't want one of your employees to be injured on the job, and a customer accident could easily turn into a public relations disaster. The Mad Matter has your business' interests in mind, and we carry a great selection of safety mats that can help you maintain a safe work environment. From anti-fatigue mats to wet area and switchboard mats, we truly do have it all!
Kitchen Mats
Kitchens and food preparation areas can be some of the busiest spots in your establishment. Your employees are working quickly, and there are bound to be drops and spills at one point or another. It's important to keep the area both safe and sanitary, and commercial kitchen mats are a great way to accomplish both goals. We carry both grease-proof and grease-resistant kitchen mats, and we also carry anti-fatigue kitchen mats that you can purchase to keep your front-of-house employees comfortable. Whether you run a restaurant, diner, cafeteria, or another kind of commercial kitchen, we know that our commercial kitchen mats will exceed your expectations.
Break Room Mats
You run a busy company, and it's important to make sure that your employees have a comfortable environment in which they can take a break from the daily grind. Given that so many of your employees prepare food and drink beverages whenever they visit the breakroom, it's important to have office floor mats that protect your flooring and keep your employees safe. Our floor mats for break rooms are incredibly easy to clean, and they also provide your employees with a comfortable, safe surface to walk on.

Buy Your Floor Mats With The Mad Matter Today!
We hope that today's entry will inspire you to purchase floor mats that will improve your business' safety, efficiency, and overall aesthetic appeal. We'll continue to post helpful resources about our floor mats in the coming weeks and months, so make sure that you check our blog regularly for the latest posts!
The Mad Matter is proud to be your one-stop shop for all of your floor matting needs. Whether your business needs several break room mats or office floor mats for the entire building, we'll answer any questions you have about our products and fill your order as soon as possible.
Get in touch with us using the form below to request a quote. We look forward to helping your business succeed!