You have a lot on your plate as an employer. Between managing your day-to-day operations and making long-term plans, it's easy to miss small changes that could boost your business' efficiency and improve your employees' morale. Anti-fatigue matting is one of the best investments you can make in your workforce, and it's incredibly easy to order and implement!
In today's post, we'll take a look at just a few of the many reasons why you should invest in anti-fatigue mats for your business. When you've finished reading today's entry, head over to our extensive online store to browse our complete collection of floor mats!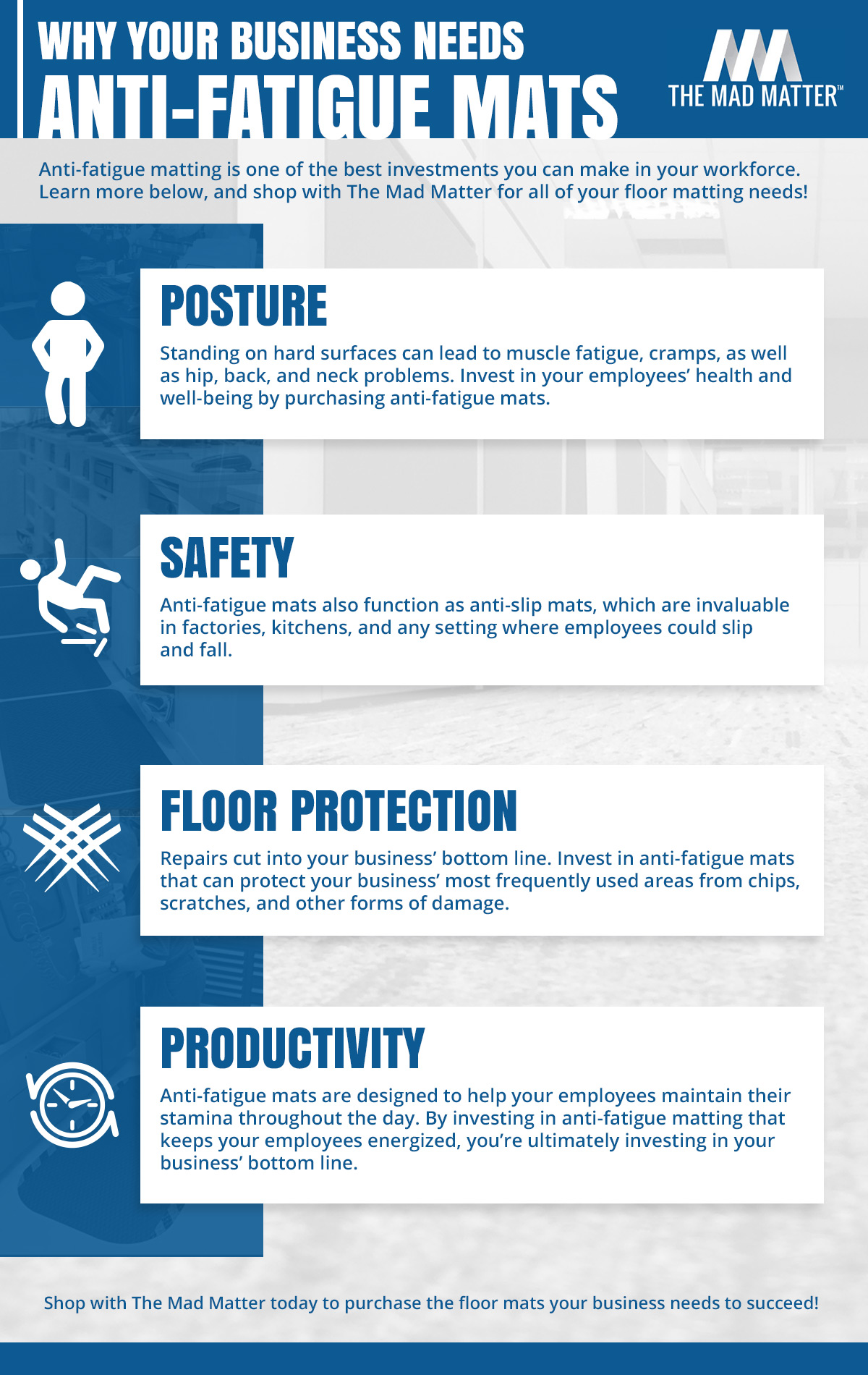 Four Reasons Why Your Business Needs Anti-Fatigue Matting
Posture
As you surely gathered from the name, anti-fatigue mats are designed to prevent your employees from losing steam on the job. Cashiers, cooks, and other employees who stand for long periods of time can quickly become worn out by standing on hard surfaces. In fact, studies consistently show that standing on hard surfaces can lead to muscle fatigue, cramps, and a number of hip, back, and neck problems.
You don't want your employees to miss work because they're too sore to come in, and you certainly don't want them to lose productivity on the job due to muscle fatigue. Investing in high-quality anti-fatigue mats will help your employees retain good posture and a high standard of well-being whenever they're on the job.
Safety 
Anti-fatigue matting can do more than help your employees maintain high energy levels on the job — it can also keep accidents from occurring on the job! Anti-fatigue mats also function as anti-slip mats, which can be invaluable in factories, kitchens, and any other setting where employees could slip and fall.
Floor Protection
No matter how large or small they may be, repairs always cut into your business' bottom line. You may have floor matting protecting the carpet throughout your building, but you may not have considered that anti-fatigue mats can also serve as a protective measure for your business' hard surfaces.
Accidents happen, and your employees will inevitably drop something on the floor at one point or another. Instead of leaving your flooring's integrity up to chance, invest in anti-fatigue mats that can protect the most frequently used areas from chips, scratches, and other forms of damage.
Productivity
Studies show that happy employees are almost always more productive than unhappy employees. As we noted in the first section, anti-fatigue mats are designed to help your employees maintain their stamina throughout the day, especially if they're in a position that requires them to stand for long periods of time. By investing in anti-fatigue matting that keeps your employees energized, you're ultimately investing in your business' bottom line.
Additionally, many businesses — offices in particular — are now investing in resources that allow their employees to switch between sitting and standing throughout the day. Your office's carpeting may not have much cushion, and the desk mats below your employees' chairs may make it even more uncomfortable for them to stand. If your office is following this trend, then consider investing in office anti-fatigue mats that can keep your employees comfortable, should they choose to stand. Your employees will undoubtedly thank you for the consideration, and you might even see a boost in their productivity!
Purchase Your Anti-Fatigue Matting Today!
We hope that today's entry will inspire you to purchase anti-fatigue mats for your business, no matter which industry you serve. Keep an eye on our blog page, as we'll continue to provide you with even more information about our floor mats in the coming weeks and months.
Would you like to learn more about our floor mats? Get in touch with The Mad Matter today and let us help you find the right products for your business!