Whether you own and operate a small business or a thriving chain of franchises, it's important to keep your customers and employees safe. Investing in floor matting is one of the best ways to accomplish this goal for an unbelievably low price, and at The Mad Matter, we carry floor runners that can benefit businesses of any size.
In today's post, we'll take an in-depth look at four of the many reasons why your business will benefit from investing in runner mats. When you've finished reading today's post, take a look at our extensive catalog and order the floor runner mats your business needs to thrive. Whether you're shopping for a few mats to protect your entryway or you need floor mats for your entire office, we're your one-stop shop!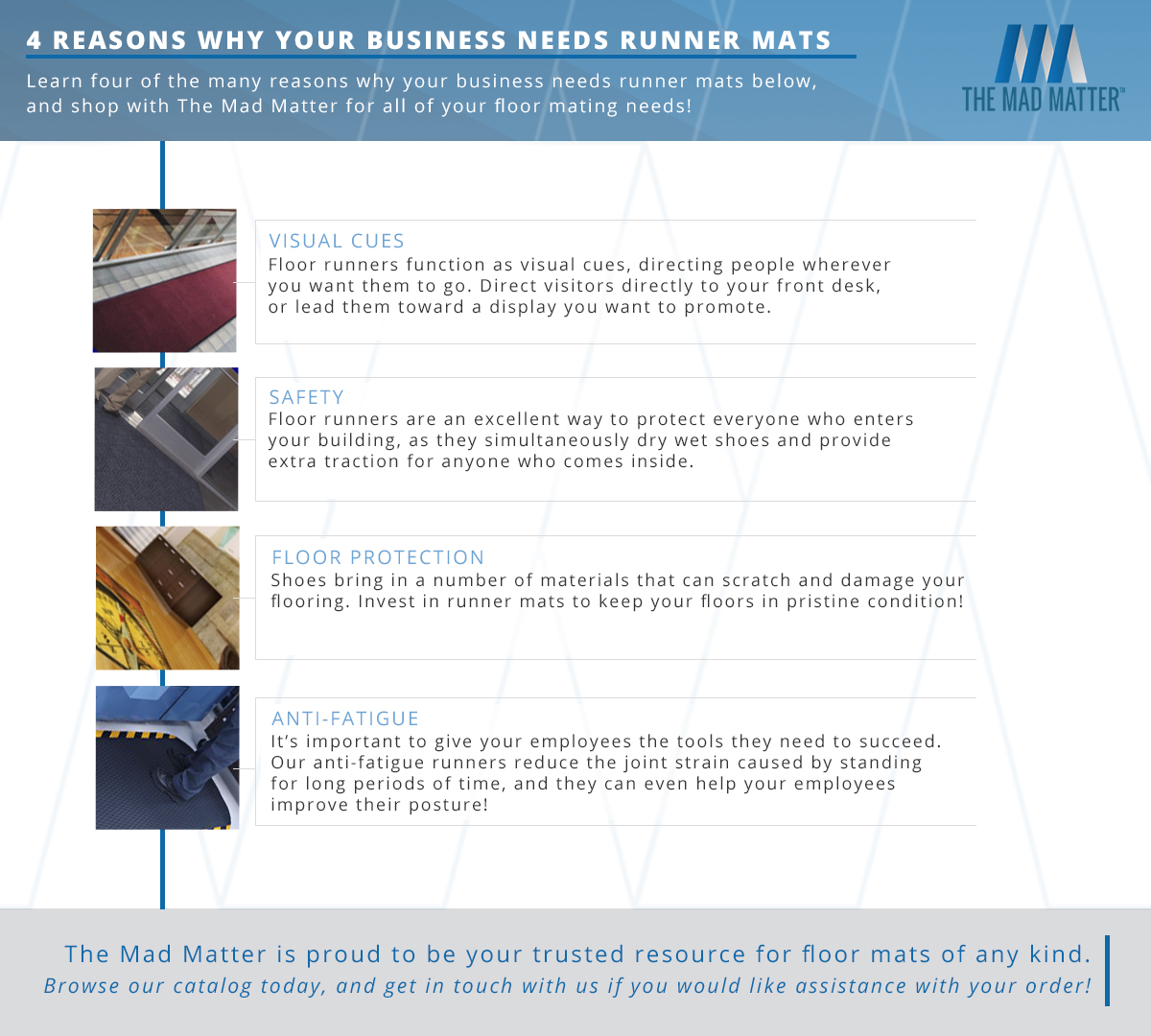 Four Benefits of Floor Runner Mats
Visual Cues
As a business owner, you're always pushing people in one direction or another, whether intentionally or unintentionally. You set certain items in highly visible areas to attract attention, and you've created a store layout that is both easy to navigate and conducive to driving sales.
If you're looking for an easy way to direct foot traffic through your building, then invest in floor runners that you can place in your entryways and throughout your business. Carpet runners function as visual cues, directing people where you want them to go. You can lead them directly to your front desk, or you can direct them toward a certain display you want to promote. No matter what you use your floor runner mats for, we know that you'll love not having to rely on signs and other, more obvious, visual cues.
Safety
As we mentioned at the beginning of this post, safety is a top concern for every business owner. You don't want your business to be the site of a publicized customer accident, and you certainly don't want to become wrapped up in an employee lawsuit.
Floor runners are an excellent way to protect everyone who enters your building, as they simultaneously dry wet shoes and provide extra traction for anyone who walks on them. Our runner mats are available in a number of different materials, including vinyl and rubber, so be sure to get in touch with us if you're not sure which material is right for your business.
Floor Protection
Your business' appearance matters, and the quality of your flooring is one thing that both customers and employees will notice as they enter the building. Shoes bring in rocks, dirt, and other materials that can scratch and damage your flooring, and your once-pristine floors can easily be ruined in a matter of months. It doesn't matter which surfaces you have in your business — if you want to protect your floors from long-term damage, then you need to invest in runner mats.
Anti-Fatigue
Your business' bottom line is affected by a number of different factors, including employee fatigue and workplace absences. If your business' day-to-day operation relies on employees who stand for long periods of time, then it's important to ensure that you're giving them the tools and support they need to succeed.
Our anti-fatigue floor runners are designed to reduce the joint strain caused by standing on a hard surface for a long period of time, and they can even help your employees improve their posture. They can also provide your employees with a non-slip surface to work on, which in turn reduces the chances of an on-site accident occurring.
Happy workers can be more productive workers, so get in touch with The Mad Matter and let us help you find the perfect mat for your business' day-to-day needs!

Shop with The Mad Matter Today!
We hope that today's entry will inspire you to purchase runner mats for your business.
Keep an eye on our blog page, as we'll continue to provide you with even more information about how floor matting can benefit your business in the coming weeks and months.
The Mad Matter is proud to be your trusted resource for floor mats of any kind. Whether you need anti-fatigue mats, recessed floor mats, or custom logo mats that showcase your brand's colors to anyone who walks by, we have everything you need in our extensive online catalog.
Place your order today!