As a business owner or property manager, you have a lot on your plate. Between managing your day-to-day operations and planning for the future, you may not have had the time to consider if your business could benefit from floor mats. Make no mistake — your business will benefit from floor mats, and in today's post, we'll provide you with information about four of our most popular options that you can choose for your business.
When you've finished reading today's entry, be sure to browse The Mad Matter catalog and place an order!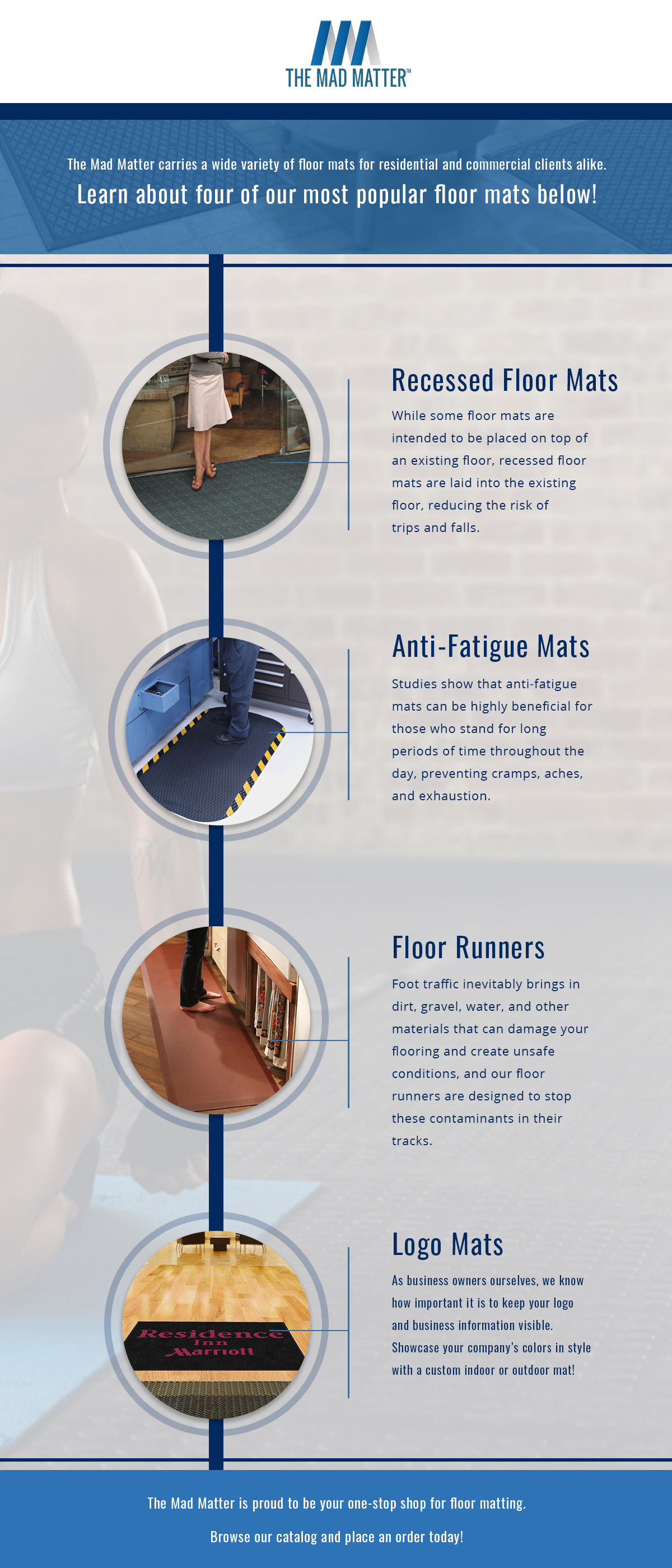 Which Floor Mat Is Right for You?
Recessed Floor Mats
While some floor mats are intended to be placed on top of an existing floor, recessed floor mats are laid into the existing floor, reducing the risk of trips and falls. Recessed floor mats are available in a wide range of options, and at The Mad Matter, we'll gladly help you find the right fit. We carry aluminum floor mats, roll-up floor mats, and so much more!
Anti-Fatigue Mats
While we often hear about the dangers of sitting throughout the day, standing on a hard surface can be equally hard on the body. Standing on tile, concrete, and other solid surfaces tends to cause leg cramps and discomfort after just 90 minutes, and with most shifts lasting between six and eight hours, employees risk becoming fatigued and sore throughout the day.
Studies show that anti-fatigue mats can be highly beneficial for those who stand for long periods of time throughout the day, and we proudly carry a number of options that could be right for your business. We have medical anti-fatigue mats that can keep your hospital employees comfortable while promoting sanitary conditions, outdoor anti-fatigue mats that can withstand the elements, sit-stand mats for your office, and so much more!

Floor Runners
Floor runners are an exceptional way to protect your existing flooring while also keeping employees and customers safe. Foot traffic inevitably brings in dirt, gravel, water, and other materials that can damage your flooring and create unsafe conditions, and our floor runners are designed to stop these contaminants in their tracks. No matter which industry your business serves or how much flooring you need to protect, we have floor runners that will fit your needs and your budget!
Logo Mats
As business owners ourselves, we know how important it is to keep your logo and business information visible. You want your repeat customers to be reminded of your business every time they walk through the doors, and you also want to market your brand to first-time customers and anyone else who sees your floor mat.
At The Mad Matter, we proudly carry a number of indoor and outdoor logo mats that can help you showcase your brand's logo and make a great first impression. We'll make sure that your mat can handle the needs of your particular region, and we'll always ensure that your image is clear and crisp before creating it.
Browse Our Floor Mat Catalog Today!
We hope that today's post has helped you to understand more about our floor mats and how they can benefit your business. Keep an eye on our blog page, as we'll continue to provide you with even more helpful resources in the coming weeks and months.
The Mad Matter is proud to be your one-stop shop for floor matting. Whether you need a single custom logo mat for your entryway, or runners and anti-fatigue mats for your entire business, we'll help you find the right products for your needs.
We can even help you with the installation once you've chosen your floor mats! Get in touch with The Mad Matter using the form below to learn more.
We look forward to speaking with you!