As a business owner, you're always looking for ways to improve your business. Maybe you've recently invested in custom logo mats that beautifully showcase your brand's colors and graphics, or maybe you're restructuring your storefront to create a better customer experience.
These are excellent ways to improve your business-to-customer relationship, but have you considered how you can improve your employees' experience? Your employees are the backbone of your business, and investing in their comfort and happiness is ultimately an investment in your bottom line.
In today's post, we'll take an in-depth look at three easy ways you can keep your employees happy, productive, and comfortable. When you've finished reading today's entry, head over to The Mad Matter to browse our amazing selection of floor mats!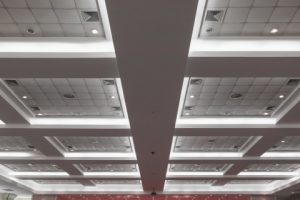 Keep Your Employees Comfortable By…
Investing in Anti-Fatigue Mats
When you own a retail store, a hotel chain, a restaurant, or another kind of service-based industry, the vast majority of your staff will be spending the day on their feet. Even if it's been years since you worked the register or cooked on the line, you probably remember just how exhausting it can be when you're standing for long periods of time.
Anti-fatigue mats are one of the best ways to keep your employees comfortable throughout the day, and at The Mad Matter, we have a great selection of mats at incredibly affordable prices. Whether you need commercial kitchen mats, office floor mats, or all-purpose floor mats that can be set up throughout your building, our catalog has everything you need to keep your employees energized and comfortable while they work.
Evaluating Your Lighting
Did you know that lighting has a significant impact on your staff's well-being and performance? Studies consistently show that workers across a wide range of industries are happier, more productive, and more energetic when they have access to natural light sources.
That being said, restaurant workers, welders, and many other service industry workers don't have access to natural light throughout the day, but options are available. For instance, you can invest in LED lighting that mimics natural sunlight and use it throughout your building. If your budget doesn't have room for a building-wide lighting change, then consider adding warm lights to the break room, as warm white light can help your employees relax and refocus while they're away from their work stations.
Considering Your Ventilation
Do you feel a draft, or a lack thereof?
Comfort is important for employees and customers alike, and ventilation plays an important role in your business' success. If the dining room in your restaurant is too cold, or if your hotel lobby becomes a sauna during the summer months, then you're almost certain to hear complaints from customers and employees alike. Some employees may not be comfortable voicing their discontent, so if you really want to gauge how your employees feel about the building, then you may want to consider sending out a company-wide survey. Areas like kitchens and welding stations will always be warm, but investing in fans or zoning your building could help your employees stay comfortable and productive throughout the day.

Purchase Anti-Fatigue Mats Through The Mad Matter Today!
We hope that today's post will help you create a comfortable, safe, and productive environment for each of your employees. Bookmark our blog and check back regularly, as we're always adding new content that can help you improve your business.
The Mad Matter is your one-stop shop for a variety of floor matting resources, and our extensive catalog has everything your business needs to thrive. Whether you need a few anti-fatigue mats for your small business or new office anti-fatigue mats for an entire office, you can count on us to provide you with affordable prices and exceptional service.
We can't wait to work with you!