If you own or operate a hotel, then you know that there are a number of needs and concerns unique to the hospitality industry. While you probably haven't given it much thought since you first opened your doors, the floor mats around the building may be detracting from your hotel's aesthetic appeal and putting others at risk.
In today's post, we'll take a look at a few of the areas in your hotel that might need new floor mats. When you've finished reading today's entry, be sure to head over to The Mad Matter to browse our complete collection of floor mats for hotels!
Where Could You Use New Floor Mats?
Entryway
Your hotel's entryway makes a statement, and you don't want shoddy entrance mats to detract from its overall beauty. You probably have custom logo mats with your hotel's graphics and colors welcoming guests as they approach the main doors, and you may even have a breezeway or revolving door with recessed floor mats.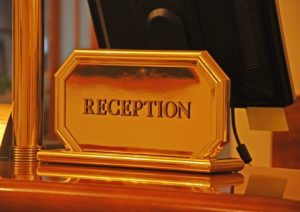 Take a moment to inspect both of these areas, as you don't want customers to form a negative impression of your hotel before they've walked through the doors! If your logo mats are looking worse for the wear, or if your recessed floor mats have sustained damage from years of use, then be sure to look through our catalog to find great replacements. Our custom logo mats are nothing short of beautiful, and our recessed floor mats are made with durable materials that will last for years to come!
Front Desk
The front desk is the first place that guests go when they've entered the building, and as we noted in the previous section, you want their first impression of your hotel to be a good one. Many hotels choose to invest in custom logo mats they can place in front of the main desk to greet guests, while others place floor runners near the entryway to guide guests directly to the check-in desk.
The staff members who operate your front desk work hard, and while they may have chairs they can sit in during off-peak hours, they probably spend the majority of the day on their feet. While you're ordering new logo mats and floor runners, be sure to pick up anti-fatigue mats that can help your team stay alert, energetic, and ready to help your guests with anything they need.

Kitchen
Whether your hotel has a full-service restaurant or a small kitchen with just a few workers, you should take a moment to evaluate the area's kitchen mats. Non-slip commercial kitchen mats are highly important assets, and yours may be looking worse for the wear after years of daily use. Check to see if the mats near the prep stations and dishwasher still have tread, and consider ordering non-slip anti-fatigue mats for the chefs who spend long hours on their feet throughout the day.
Hallways
The vast majority of hotels have long hallways, and yours probably have some kind of patterned carpet or tile that complements the rest of the building. While you don't necessarily need to place floor runners in each and every hallway, placing one or two near the elevator on the main floor is a great way to keep your guests safe after they've just walked through the doors. Hotels can also be intimidatingly large for some guests, and many people will appreciate a floor runner guiding them directly to the elevator after they've checked in.
Shop With The Mad Matter Today!
We hope that today's entry will help you determine if it's time to replace the floor mats around your hotel. If any of the mats you're using could stand to be replaced, then head over to The Mad Matter to purchase everything you need in one convenient location!