Spring has officially sprung, and if you're like many business owners in the United States, then you're probably starting new springtime promotions that can boost your business' bottom line before summer arrives.
At The Mad Matter, we're intimately familiar with just how hectic it can be to own and operate your own business. As you run your springtime promotions and prepare for summer, you should make sure that you're protecting your flooring from the incoming moisture that much of the United States receives during this time of year. In today's post, we'll examine three different floor matting options that can help you keep your floors in great condition throughout the year.
When you've finished reading today's entry, be sure to browse our catalog and place your order!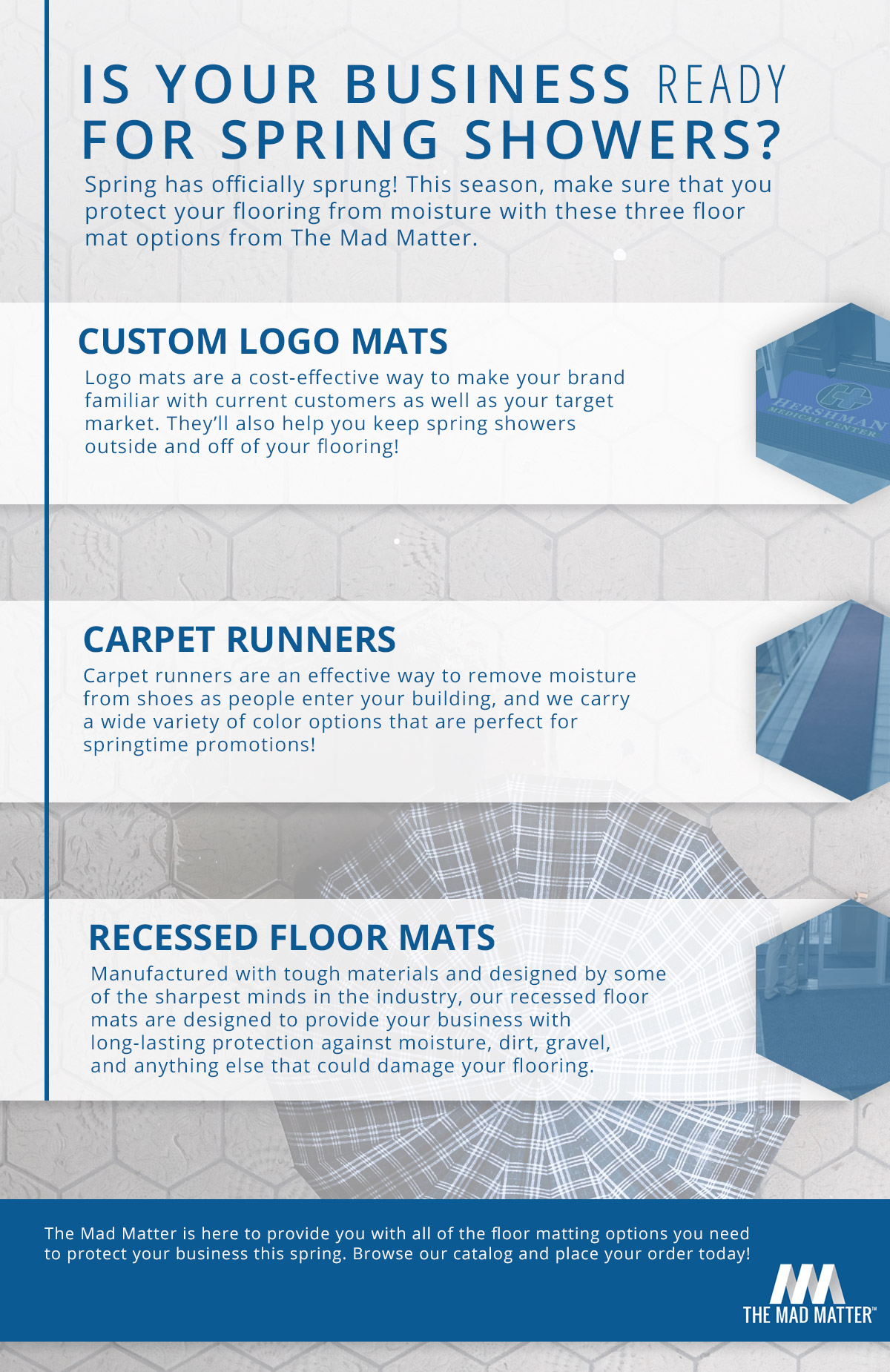 Custom Logo Mats 
As a business owner, you're always looking for ways to get your business' name out there. While your customers will certainly remember what your business looks like on the inside, many of them will primarily associate your brand with your logo. Between social media marketing, flyers, and other marketing strategies, it's easy to spread yourself thin, but logo mats are a cost-effective way to make your brand familiar with current customers as well as your target market. We can help you create beautiful custom logo mats for indoor or outdoor use, and your new mats will also help you keep spring showers outside and off of your flooring.
Carpet Runners
Logo mats are a great place to start, but you can't rely on them to protect your entire business from seasonal downpours. Rain or shine, customers and employees alike will be walking through your doors, and you don't want your flooring to suffer because of foot traffic! Our carpet runners are an effective way to remove moisture from shoes as people enter your building, and we carry a wide selection of color options that will suit your business' needs!
Recessed Floor Mats
If you're looking for durable and long-lasting floor protection, you can't do much better than recessed flooring. Manufactured with tough materials and designed by some of the sharpest minds in the industry, our recessed floor mats are designed to provide your business with exceptional protection against moisture, dirt, gravel, and anything else that could damage your flooring.
Like all of our floor matting options, our recessed mats are available in a number of different styles. Please reach out to us if you would like assistance with your order!

Purchase Your Floor Mats Today!
We hope that today's entry will help you prepare your business for spring showers. Keep an eye on our blog page, as we'll continue to provide you with seasonal resources and other helpful tips throughout the year.
The Mad Matter is here to provide you with all of the floor matting options you need to protect your business this spring. Browse our catalog to find the mats that are right for your business, and don't hesitate to reach out to us if you would like more information!