Description
Product Description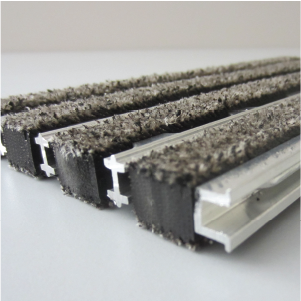 Babcok-Davis EnvIRONtread II Rigid recessed walk-off grate is constructed of recycled, reversible, and sustainable materials and is effective in any type of high-traffic entrance.
Rail Material – Aluminum
Depth – 11/16″ or 15/32″
Tread Spacing – 1-1/8″ on center
Tread Options – envIRONtreadII
Rail Finish – Mill
Frames – Level Bed or Surface Mount
Rolling Load – 1500 lbs/wheel
Uniform Load – 80,000 lbs/ft2
Warranty – 5 years
Features
Recycled – Minimum of 59% post-consumer and 29% of pre-consumer recycled content. Buffed nylon-reinforced truck and airplane tire strips
Reversible – Double sided treads make symmetrical grates perfectly reversible. Just flip over to increase product life.
Reliable – Buffing the fibers out of used tires creates tread strips with an attractive velvety surface that allows the inserts to maintain their new appearance over time.
EnvIRONtreadII Options – Note: Due to the recycled contents, there may be a significant color variation in this product.
| | |
| --- | --- |
| | |
| Grey | Black |
Constructed of truck and airplane tire strips, EnvIRONtreadII lasts longer than other textile entrance mats and grates.
Standard color is Gray. Black may carry an additional charge.
Frames
| | | |
| --- | --- | --- |
| | | |
| Surface Mount Frame | Level Bed Mech. Fastened Frame | Level Bed Cast-In Frame |