Description
Product Options:   
Product Documents:  
General Information
Our Aluminum Foot Grille – 1-5/8″ – Recessed Floor Mat features high end durability and performance.
All Aluminum Recessed Floor Mats are Custom Made – each mat is made to order, not in stock.
In order to give a proper price and/or quote we need specific information. See below for details.
The actual grate for this type of recessed mat measures 1-5/8″ in depth, however, there are several frames available to accomodate different recessed depths.
The Aluminum Foot Grille – 1-5/8″ – Recessed Floor Mat can handle rolling loads of up to 300lbs per wheel and are made from 6063-T52 aluminum spaced at 1-1/2″ on center
Each tread rail is secured with keylock bars placed on 6″ centers – The keylocks are both mechanically locked in place and welded in place for maximum strength
Notoriously dependable and are mats that can perform for decades. The inserts may require replacing, but the aluminum foot grille itself will last for a long time barring damage.
The underside of the recessed foot grilles have thermoplastic foot pads to put a reduce "metal to concrete" noise where the mat rests on the recessed pit floor
An Aluminum Foot Grille – 1-5/8″ – Recessed Floor Mat is designed to allow dirt and moisture to fall below into the pit below so that it does not get tracked into the building
Aluminum grilles do not roll up like other recessed aluminum mats, but can be periodically lifted out of the recess for cleaning
Drain Pans for aluminum grates are a great option to have for heavy rain fall areas.
**Lead time depends on the type of METAL FINISH desired:  Standard Mill takes 1-2 weeks, Anodized Finish can take 3-4 weeks.**
To Receive a Proper Quote we will need the following Information:  
Name, Company Name, Phone and/or Email
Recess Depth of Pit
Frame Type – No Frame, L Frame for Existing Recess and Frame for Wet Pour
Finish of the Aluminum – Mill Finish, Clear anodized, Medium Bronze anodized, Dark Bronze Anodized, Black Anodized, etc.
Insert Type – Carpet, Polybrush, Peak Vinyl, Serrated Aluminum, or Alternating Serrated.
Size of Recess – Width (wide) x Length (tall)
Ship To Zip Code – Shipping/Freight
**All of these characteristics affect the overall price of the mat(s)**
Tread Inserts
Carpet– (Zone 3) Wiper and Moisture Absorption Designed for Interior Use
| | | |
| --- | --- | --- |
| | | |
|   Black Cherry |       Black |       Blue |
| | | |
|   Brownstone |     Charcoal |     Chrome |
| | | |
|    Espresso |  Hunter |         Java |
| | | |
|      Mauve | Midnight | Sandy |
| | | |
|     Spruce | | |
Poly Brush– (Zone 2 & 3) Scraper+Wiper Superior Scraping Action
Peak Vinyl– (Zone 1 & 2) Scraper Indoor/Outdoor Scraping Action
      Black
      Blue
      Beige
      Brown
       Grey
Serrated Aluminum– (Zone 1 &2) Ultimate Longevity Scraping Action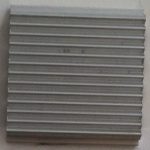 Serrated Aluminum
Alternating-(Zone 2) Alternating between Serrated Aluminum and Your Choice of Additional Insert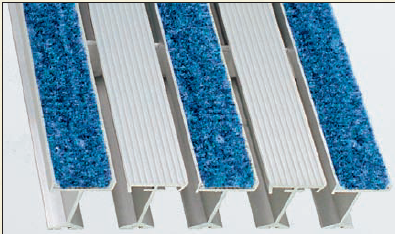 Finish Colors
Aluminum/Metal Finishes
| | | |
| --- | --- | --- |
| | | |
|   Black Anodized |    Brass Anodized |    Clear Anodized |
| | | |
| Dark Bronze Anodized |   Gold Anodized | Light Beige Anodized |
| | | |
| Med Bronze Anodized | Standard Mill | |
**Lead time depends on the type of METAL FINISH desired:  
Standard Mill takes 1-2 weeks, Anodized Finish can take 2-4 weeks.**