Description
PEM Light Duty Matting provides a slip resistant flooring for added safety and comfort.

PEM Floor Matting 1/4″ can be used for a variety of applications to help promote a safe walk surface.

The PEM Wet Area Matting has a soft construction and unique porous looping design that allows moisture to pass all the way through the mat.

Durable textured surface serves to minimize slippage in well traveled areas and to provide padding and a cool walk surface for bare feet.

This pool deck matting can handle any outdoor setting and is great for spas, hot tubs and walkways that may get hot from exposure to the sun.

Anti-slip roll produced in 4 different colors for your specific application.

1/4″ thickness

Easy handling for applications where daily cleaning is necessary: pool decks, locker rooms, and showers.

PEM Non-Slip Matting 1/4″  is a

vailable in three different widths: 2′, 3′ and 4′. Up to 25′ in length.

Custom sized non-slip mats for pool decks available, please call for pricing. (833) 428-0457
Recommended for Light Weight Use: Indoor/Outdoor Shower Area, Hot Tubs, Locker Rooms, Spas, Saunas, Laundry rooms, etc. 
Roll lengths-
2′ x 25′ (38Lbs)
3′ x 25′ (57Lbs)
6′ x 25′ (115Lbs)
Also Available in 3/8″ Thickness
Similar Product Frontier
Color Options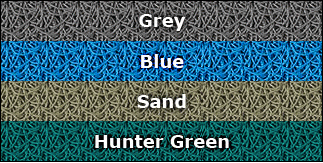 *Color Green has been discontinued*