Description
Our PEM Matting provides slip resistant flooring for added safety and comfort.

Can be used for a variety of applications.

PEM Non-Slip Matting Roll 3/8″ has a soft construction and unique porous looping design.

Creates a durable textured surface to reduce slippage in well traveled areas and to provide padding on points of harmful contact.

Produced in 6 different colors to meet the requirements of your specific application.

3/8″ thickness

Anti-slip matting provided in three different widths: 2′, 3′ and 4′. Up to 25′ in length.

Custom sizes available, please call for pricing.

800-685-1144

Added durability for High Traffic Use. 

Recommended for use when Drainage and providing a safe walk surface is important: golf courses, pool decks, concessions, bridges, steps, underwater, spas, marina walkways, boat docks/decks, spray parks, dog kennels, playgrounds, equestrian. 
Non-Slip Matting Roll lengths-
2′ x 25′ (60Lbs)
3′ x 25′ (90Lbs)
6′ x 25′ (180Lbs)
Also Available in 1/4″ Thickness
Colors Options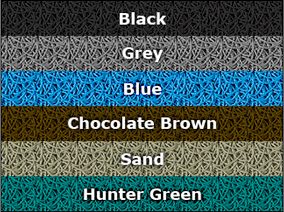 Similar Product