Description
Waterhog Classic Diamond – Custom Colors
Sometimes it is important to just roll out the red carpet or make a statement with a special color.  That's where Waterhog Diamond Custom Color mats fit the bill.  These mat colors are usually used in logo applications, but sometimes that special color provides the impact you may desire.
While only available in a 3′ or 4′ width, we can make these mats in longer sizes.  The pattern design requires that we make the mats in certain sizes.  So, if you don't see the size you need – Give us a call! 800-685-1144
WaterHog Classic Diamond walk off mats mats are durable, stain-resistant mats with a unique bi-level design that traps dirt and moisture, keeping your floors clean, dry, and safe.  The WaterHog mat features a classic waffle pattern.
3ft Width or 4't Width
Specify a Fashion Border for a softer, less industrial appearance or the Standard Rubber Edge if you prefer
Thickness 3/8" provides a low edge profile to minimize tripping hazards and provide for a safe transition
All Waterhog Classic mats feature 78-mil SBR rubber backing that is available with aCleated backing for use on top of carpet or a Smooth Backing for use on hard floors like VCT, Granite, Marble, LVT, Ceramic or Hardwood floors.
Waterhog Classic door mats are the gold standard of floor mat, but sometimes gold isn't the right color – Perhaps a Solid Red or Purple will fit the bill.  Regardless, these mats are great for commercial buildings, hotels, restaurants, healthcare facilities, office buildings and more.
Waterhog Mats are static dissipative and will protect against voltages of 1.6KV as measured by the ASTCC.   Waterhog door mats are safe for use in computer rooms and around electronic equipment.
BUY IN BULK AND SAVE BIG!! Call 800-685-1144 FOR BULK PRICING!
Clean & Dry– Bi-level surface effectively scrapes dirt and moisture from shoes, trapping it beneath shoe level to prevent tracking; water dam border holds moisture keeping it off your floors (WaterHog mats can hold up to 1.5 gallons of water per square yard)
Durable– Reinforced rubber nubs prevent pile from crushing and extend the performance life of the mat
Fade & Stain-Resistant– Solution-dyed PET fabric (24 ounces/square yard) is resistant to staining, dries quickly, and will not fade or rot
Safe– Beveled edges provide a safe transition from floor to mat; certified high-traction by the National Floor Safety Institute (NFSI)
Eco-Friendly– SBR rubber backing contains 20% post-consumer recycled rubber from car tires; PET surface is made from 100% post-consumer recycled plastic bottles
Product Literature can be downloaded here: Waterhog Classic Literature Sheet
Need Door Mats Quickly? Give Us A Call 1-800-685-1144
Waterhog Classic Entrance Mats come out slightly smaller in size;, due to "curing" process.
Ask an associate for further details.
Also Available in: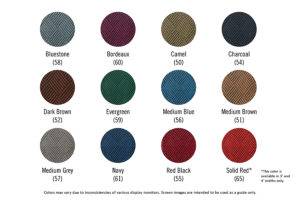 Color Options for the entire Waterhog line of products – Custom Colors are Aquamarine, Gold, Orange, Purple, Solid Red, White and Yellow. Need a standard color, click here: Waterhog Diamond -Standard Color