Entrance Mats
Entrance Mats
Entrance Mats For All Applications – Indoor, Outdoor, Recessed and Surface
Waterhog Fashion Outdoor entrance mats – Fashion Border – Bordeaux

 Waterhog Fashion Entrance Mat

Recommended for use as an indoor floor mat, but can also be used as an outdoor floor mat
Carpet covered, rubber reinforced nibs scrape shoes of debris and pull moisture away from shoes
Dirt and water are trapped by polypropylene ridges of the floor mat
100% Nitrile rubber backing for maximum durability
Door mat is simple to clean, just vacuum or hose off
Passes flammability standards DOCFFI-70
Available in many different colors

Legacy Classic Walk Off Mat

Legacy Classic Entrance Mats

Indoor or Outdoor combination Scraper/Wiper Entrance Floor Mat
Solution Dyed 24 oz Polypropylene fibers are extremely stain resistant
Water Dam Edges like all Waterhog floor mats will hold up to 1-1/2 gallons of water per square yd
Bi-Level Surface with rubber reinforced pattern elevates shoes above contained water and dirt making this an ideal entrance mat
Use Gripper Backed floor mats for placement on carpet or Smooth Backed for floor mats for use on hard floors
Legacy carpet mats come with a Standard Rubber Edge or Fashion Border
Ideal entrance mats for commercial buildings, hotels, restaurants, hospitals, office buildings and for any commercial application

Dual Rib Entrance Matting

 Dual Rib Entrance Mats

Primary use for Dual Rib Floor mats is for Light to Medium traffic use
A Vinyl Backed floor mat for use on hard floors
Economical Indoor walk off mat or Outdoor floor mat
Dual Rib floor mats sport Polypropylene fibers in a ribbed Pattern
3′, 4′ and 6′ Widths up to 60′ – Custom Lengths by the foot available
Ideal as an entrance mat or as a runner carpet mat
Low price door mat

Olefin Walk Off Mats for use as an economical indoor walk off mat or runner

 Olefin Entrance Mats

Economical door mats for inside uses
Olefin floor mats trap moisture at the door
Vinyl Backing for use on hard floors
Great as an inexpensive runner or indoor entrance floor mat
Vacuum to clean
Available as an entrance mat or floor mat runner in 3′, 4′ and 6′ Widths up to 60′ long
Popular indoor entrance mat for low to medium traffic entrances

Colorstar Indoor Floor Mats and Runners for Zone 3 Moisture Control

 Colorstar Entrance Mats

Colorstar Floor Mats are equipped with Solution Dyed nylon fibers that will not fade due to cleaning or sunlight
The Colorstar door mat has a Rubber Backing and rubber edges will lay flat
Use Colorstar floor mats as an indoor door mat or carpet mat runner
Large Color and Size Selection allows the Colorstar floor mat to accent just about any decor.
Colorstar floor mats are Launderable
Very Absorbent and great as a "finishing mat" to wipe shoes dry

Piazza Entrance Mats – Heavy Duty Berber Pattern with Beveled Edging

 Piazza Entrance Mats

Heavy Duty Door Mat for Indoor or Outdoor Use
Beveled Edges Sewn on for increased performance
Piazza floor mats dry quickly
Use as a Loose Lay floor mat or glue it down as a semi-permanent entry mat
Piazza Floor Mats can be made to custom floor mat sizes up to 12′ Wide and 50′ in length
Numerous colors of the Piazza floor mats allow for logos and designs to be used resulting in a great first impression.
Use Piazza door mats for high traffic entrances like hotels, office buildings, schools and hospitals

Waterhog Eco Premier Floor Mats for elegant performance

 Waterhog Eco Premier Entrance Mats

Eco Premier door mats use a Heavy Duty 30 oz face fiber made from 100% Post Consumer PET from used plastic bottles
All Waterhog Door Mats are made with a Rubber backing consists of 20% rubber from recycled tires
These floor mats come with either Standard Rubber Edges or Fashion Border (pictured)
Water Dam Edges prevent liquids from seeping off of the floor mat
Eco Premier walk off mats sport a Bi-Level reinforced rubber pattern that will not crush even after years of use.
Specify a Gripper backed floor mat for use on carpet or Smooth Backing for use on hard floors.
An ideal floor mat for high traffic areas like parking garage entrances, main entrances and also as a runner

Chevron Floor Mats with a Herringbone pattern and Affordable Price

 Chevron Entrance Mats

Light to Medium traffic Entrance Doormat
Indoor walk off mat or Outdoor floor mat
Chevron floor mats have a Vinyl Backing for use on hard floor surfaces
The Polypropylene fibers of Chevron floor mats are woven into a distinctive chevron pattern that scrapes shoes clean and dries quickly
The Chevron floor mat is easy to maintain – Vacuum or sweep to clean
3′, 4′ and 6′ Widths up to 60′ – Custom floor mat lengths available
Use Chevron floor mats for low volume commercial entrances and as a runner floor mat to provide protection from slip and falls
Economical Price Point of Chevron carpet mats make this a popular choice.

Colorstar Crunch Entrance Mats continues to scrape and absorb moisture when used as a Zone 2 Walk Off Mat

 Colorstar Crunch Entrance Mats

This door mat uses Extra Coarse Nylon Fibers in conjunction with thin nylon fibers to scrape+absorb
Indoor Floor Mats
Rubber Backing in Gripper (3′ or 4′ Widths only) or Smooth Backed
Solution Dyed Fibers will not fade in sunlight or from cleaning chemicals
Colorstar Crunch floor mats employ Tweed patterns help to hide soils between cleaning
Colorstar Crunch door mats are easy to keep clean – Vacuum to clean
Use Colorstar Crunch carpet mats as an entry mat or as a carpet mat in 3′, 4′ and 6′ Widths up to 60′
Popular applications are as inside entrance mats to commercial buildings, banks, hospitals and nursing homes

Hobnail Floor Mats are an economical indoor or outdoor carpet mat

 Hobnail Entrance Mats

Indoor or Outdoor Floor Mat for Medium to Light Traffic Use
Smooth Vinyl Backing and edges for use on top of hard floor surfaces
Hobnail floor mats have a berber pattern that scrapes shoes from any traffic direction
Polypropylene fibers of the Hobnail floor mat use a a needlepunch constructionand the fibers are resistant to stains and dry quickly
Hobnail floor mats hit an economical price point
Hobnail door mats are available in custom lengths in 3′, 4′ and 6′ Widths up to 60′ – by whole foot increments
Popular floor mat for use at side entrances, warehouse to office entrances, low traffic entrance for commercial applications

SandTrap Entrance Mats offer a High End look and performance with ADA approved Beveled Edging

 SandTrap Entrance Mats

Heavy Duty Doormats for use indoor or outdoor of high traffic entrances
52 oz Solution dyed polypropylene fibers with a berber pattern and needle punch construction
The Heavy Duty Beveled Rubber Edging of SandTrap floor mats are sewn on
Use SandTrap floor mats as a free standing mat or glue down for optimal entrance mat performance
SandTrap door mats are available in widths up to 13'2″ and lengths up to 101′ –
Use SandTrap floor mats when customization is required.
The many colors of SandTrap Entrance mats allow for logos and designs.
SandTrap Heavy Duty floor mats are ideal for Main Entrances to Office Buildings, Hotels, Schools, Hospitals and any High traffic entrance where performance is crucial

Waterhog Classic Entrance Matting is the original workhorse of the floor matting industry

Waterhog Classic Entrance Mats

Waterhog Classic floor mats are Excellent as Indoor/Outdoor Entrance Mats
19 Colors of the Waterhog floor mat allow it to fit into any decor.
Waterhog's Bi-Level Crush Proof Waffle Pattern make this one of the best floor mats on the market.
Water Dam Edges to keep liquids on the mat – Drainable Edge version is also available when the door mat will be placed outside
Specify a Smooth backing when the floor mat will be used on a hard floor or a gripper backed floor mat when used on top of carpet.
Waterhog door mats use a Heavy duty rubber helps prevent mat movement
Waterhog floor mats are available in Custom lengths in 3′, 4′ and 6′ Widths up to 60′
Great entrance mats or carpet mats for commercial applications, schools, hospitals, office buildings, nursing homes and more

Waterhog Eco Grand Premier Walk Off Mats Look great and perform as well

 Waterhog Eco Grand Premier Entrance Mats

Indoor or Outdoor Entry Mats that make a statement.
This floor mat's Unique half oval shape on one end makes for an elegant first impression to your building
Rubber Backed with Gripper Backing to minimize floor mat movement even when placed on carpet
The Surface Fibers of Waterhog Eco Grand floor mats are made from 30 oz PET Fabric from post consumer plastic bottles – ECO Friendly
Rubber Reinforced face nubs prevent pile crush – Waterhog Eco Grand Premier walk off mats are Great for high traffic entrances
Dries quickly – When wet, the moisture is wicked to the bottom of the entry mat below shoe level
Waterhog Eco Grand floor mats have a Slip Resistant Surface
Like all Waterhog products, Waterhog Grand Premier entrance mats have a "water dam" border which serves to keep dirt and water in the mat and off of the floor
Molded Sizes in 3′, 4′ and 6′ Widths up to 61′
Waterhog Eco Grand Premier floor mats are Certified NonSlip by NFSI
Great for Hotels, Apartment Buildings, Office Buildings, Mall Entrances and Hospitals – Use Waterhog Eco Grand Premier door mats to dress up any entrance.

Use Waterhog Eco Grand Elite floor mats When standard rectangle mats will not do

 Waterhog Eco Grand Elite – Oval on One or Both Ends Entrance Mats

Indoor or Outdoor Entry Mat with unique half oval on one or both ends of the mat
30 oz PET Polyester fibers from reclaimed plastic bottles bonded to a 100% Rubber Backing with a 20% Recycled rubber from used tires
Bi-Level construction with reinforced rubber profiles under the fabric to prevent pile crush – This mat is Great looking and offers Great Performance
Waterhog "Water Dam" Edges to prevent liquids from seeping off of the floor mat on surrounding floors
Use this floor mat in front of service counters, hotel check in and as an inclement weather rainy day carpet mat in Hotels, Office Buildings, Hospitals and government buildings

Waterhog Eco Elite Roll Goods allow for large area coverage

 Waterhog Eco Elite Roll Goods Entrance Mats

Great floor mat for Large Area Entrances and Custom Configurations
Eco Elite floor mats can be used as an Indoor or Outdoor entrance mat
Heavy Duty Door Mat with Beveled Edges Sewn on for addition reinforcement
Herringbone Pattern with 30 oz PET Polyester surface Fiber bonded to a rubber backing make the Eco Elite floor mat look and perform great.
Pattern of the Waterhog Eco Elite is supported by raised rubber profiles to prevent pile crush
Eco Elite entrance mats are available in custom sizes up to 12′ x 50′
Ideal applications Eco Elite entrance mats are for large lobby areas of hotels, office buildings, hospitals and government buildings

Super Scrape Entrance Mats are great for outdoor use

 Super Scrape Entrance Mats

Indoor or Outdoor Entry Mat
Made entirely from 100% Nitrile Rubber construction for oil and chemical resistance
Super Scrape floor mats are UV Stable
Molded Grip top surface with face cleats on top of the round pattern scrape tough dirt and grime off of shoes
Super scrape floor mats construction provides for a superior anti-slip surface
Earth Friendly – Safety Scrape floor mats are made with 20% recycled content
Super Scrape door mats are recommended for use in kitchens, locker room entrances, outside shop and employee entrances and in grocery produce areas

Grease Hog walk off mats help to stop grease from getting tracked in from food prep areas

 Grease Hog Entrance Mats

Indoor Transition Floor Mat designed to stop grease and oils from being tracked from cooking areas to serving areas
Grease Hog floor mats possess a Grease Proof Nitrile Backing
Solution Dyed Polypropylene surface fibers of the Grease Hog floor mat will not rot or fade
Low profile 1/4″ Thickness of Grease Hog door mats allows cart traffic to cross over easily and minimize tripping hazards
Unique disk pattern on back of the floor mat keeps it in place on hard floor surfaces
Specify a Gripper or Cleated back floor mat for use on top of carpeted surfaces
Ideal floor mat for transition areas from kitchens to dining areas and from plants to office areas to keep greases and oils from being tracked to interior spaces

Use Colorstar XL Floor Mats when large area coverage is a must

 Colorstar XL – Extra Large Entrance Mats

XL stands for Extra Large Floor Mats – Custom Sizes up to 12′ x 30′
Solution Dyed nylon fibers of this door mat will not fade due to cleaning or sunlight
Rubber Backing and rubber edges ensure that these carpet mats will lay flat
Colorstar XL floor mats are for Indoor Use Only
The Large Color Selection of Colorstar XL door mats blend with any decor
Colorstar XL entry mats are ideal for Large Lobby Areas where moisture poses a problem and the need is for a good looking effective absorbent walk off mat.

Tri Grip Indoor walk off mats and runners provide a safe footing on hard floors

 Tri-Grip Entrance Mats

Indoor Wiper Floor Mats
Soft Nylon fibers of the Tri-Grip floor mat are heat twisted to resist packing and crushing
Tri-Grip door mats are available in Smooth or Gripper Backed
100% Rubber Backed floor mats with a 20% Recycled content
Tri-Grip walk off mats are available in a Wide Color and Size Selection
Ideal carpet mats for inside use on hard floors where moisture is a challenge

Waterhog Grand Classic Floor Mats have a unique "fan" shape and fashion border edges

 Waterhog Grand Classic

Indoor or Outdoor Entry Door Mats
Unique "fan" shape of the Grand Classic entry mat augments any entrance
Waterhog Grand Classic floor mats use 24 oz Solution Dyed Polypropylene fibers that dry quickly and resist staining.
All Waterhog door mats sport a Rubber Backing with 20% recycled content
Fashion Border Edges of the Waterhog Grand lessens the "standard door mat" appearance and have a built in water dam to prevent water from seeping off of the mat
Raised rubber nubs under the surface pattern to enhance scraping and prevent pile crush making the Waterhog Grand an ideal entrance mat.

Diamondcord's Unique Diamond pattern provides cleaning action from any direction

 Waterhog Diamondcord Entrance Mats

Indoor Scraper and Wiper Walk Off Mats
Ideal floor mat for medium traffic placement indoors
Waterhog Diamondcord floor mats employ a combination of thick and thin polypropylene fibers to provide a corduroy appearance
The Diamond design with raised rubber nubs under the pattern help to prevent pile crush making these carpet mats superior in performance.
Specify Rubber Backing with Cleats for use on carpet or Smooth for hard floors
Water Dam Edges of Diamondcord floor mats help to retain water on the mat.
Great walk off mat for medium duty lobby entrances

Brush Hog entrance mats are great for beach environments where sand poses a problem

 Brush Hog Entrance Mats

Indoor Or Outdoor Entry Mats but perform best Outdoors
The Coarse Fibers of Brush Hog floor mats consist of a 100% Nylon that is designed to aggressively scrape dirt and moisture from shoes
Brush Hog door mats are resistant to UV
The Brush Hog floor mat is Rubber Backed so it will always lay flat
Available in 3′, 4′ and 6′ Widths up to 60′ in length – Cut lengths available
Ideal for hotels, hospitals, schools, office buildings churches, shopping malls
Brush Hog walk off mats are Great for sandy environments

Masterpiece Select entrance mats have a pleasing parquet pattern

 Waterhog Masterpiece Select Entrance Mats

Waterhog Masterpiece Select Walk Off Mats are great Zone 2 floor mats
Attractive parquet pattern aggressively scrapes shoes from any direction
With a 28 oz Polypropylene fiber surface bonded to a bi-level rubber reinforced pattern, Masterpiece floor mats will not develop pile crush
All Waterhog floor mats have a Rubber Backing with 20% Recycled content
Water Dam Edges of the Masterpiece Select door mat serves to keep water from seeping off of the mat and on to surrounding floors.
Available as a Gripper Backed or Smooth Backed floor mat
Use Waterhog Masterpiece Select floor mats for any high end entrance

Waterhog Classic with an upscale Diamond pattern make for an attractive walk off mat

 Waterhog Classic Diamond Entrance Mats

Use Waterhog Classic Diamond Floor Mats Indoor OR Outside
Same features as the Waterhog Classic with a different Diamond Shaped Surface pattern offer a high tech look for your entrance mat.
Waterhog Classic's 24 oz Polypropylene surface fiber is resistant to stains and dries quickly making this one of the best door mats on the market.
20 Standard Sizes allow the Waterhog Classic Diamond to meet just about any entrance mat requirement
Specify the Standard rubber border or Fashion Border when choosing your walk off mat
Available with a Gripper backing or as a Smooth Backed walk off mat
Workhorse of the floor mat industry
Choose the Classic Diamond entry mat for any commercial entrance indoor or outdoor

Eco Elite floor mats are environmentally friendly walk off mats

 Waterhog Eco Elite Entrance Mats

Heavy Duty Scraper/Wiper Walk Off Mats for indoor or outdoor use
30 oz PET polyester face fiber from recycled plastic bottles
Water Dam Edges keep trapped water from seeping off of the floor mat surface
Herringbone pattern makes this a good looking AND functional door mat
Universal Recycled Logo in corner of each floormat
Raised Rubber Reinforced nubs to enhance scraping and serve to make this an Elite walk off mat
Waterhog Eco Elite Entry mats are ideal any high traffic commercial entrance

Recessed floor mats allow for sand, salt and grit to fall below the walk surface. Roll the mat up to clean.

 Aluminum Roll Up Entrance Mats

High Tech Entry Mats that can be used indoor or outdoor depending upon the tread inserts chosen
Aluminum Roll up entrance mats can be recessed into the floor – however, there are certain floor mats in this category that are about 3/8″ in thickness that can be fashioned with beveled edges for a surface application
Dirt and moisture falls between the rails of the walk off mat and safely below the mat to prevent tracking
This style of floor mat is popular for office buildings, hotels, hospitals, commercial facilities and provides an effective barrier to the effects of mother nature

Carpet Tiles allow for entrance mat systems to cover large areas an odd configurations

 Carpet Tile Entrance Mats

Usually recessed, but not always – Entrance Tiles when used as an entrance matting system should be glued down for optimal performance
Many tiles will have a carpeted surface that can be used indoor or outdoors – Some will be entirely made from rubber with a primary focus on slip prevention and ease of maintenance
18″ x 18″ is a common tile size with thicknesses of 1/4″ and 7/16″
Easily cuts with a utility knife
Several pattern configurations to provide different overall looks
Great for any large entrance area where traffic may come from many directions
Carts and wheeled traffic easily pass over the tiles
Need Help Choosing The Best Entrance Floor Mat?
Start Here
What Describes You or Your Company Best?
Carpet Tiles allow for large area coverage entrance mats

Floor Mats For

Hospitality 

Aluminum Hinge Rollup mats used as vestibule entry matting

Floor Mats For

Health Care Facilities

Indoor entrance mat for government

Floor Mats For

Government 

Colorstar floor mats used as a runner to help to prevent slip and falls

Floor Mats For

Business & Commercial Uses

Waterhog Classic walk off mats are great for mud rooms

Floor Mats For

Home Use

Recessed Footgrille with refurbished Carpet Tread Inserts allow for many, many years of use

Floor Mats For Schools, Colleges and Education
What affordable entrance mats are for you or your business will depend upon what you want the mats to do for you. We take pride in our knowledge of floor mats and empathize with the various conditions that our customers face. To arrive at which type of  floor mats are truthfully the most affordable, we like to ask a series of questions. Armed with this information, we can then recommend several types of walk off mats in a Good-Better-Best Scenario that is based upon the functionality of the matting. It's essential that you choose entrance mats that are going to best serve your business or industry.
With this information, the end user is then equipped with which types of entry mat will best suit his or her particular requirements. With many options from which to choose, it is common for our entrance mat recommendations to vary in price.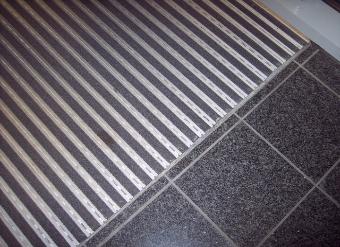 This combination of functionality and variable price points allows the end user to remain in control of just which mats will be the most affordable entry mat for his or her particular situation.
Myth of  Buying Mats Direct
One thing that we have noticed is that when people search for products on the web, they often become pre-occupied with trying to "Buy Directly from the Manufacturer".  It is a common misconception that one will get a better price if he can "eliminate the middleman".  With regard to finding the most affordable floor mats on the web, most of the companies offering entrance floor mats online are not manufacturers at all, but rather they are distributors. And if they are manufacturers, they are not manufacturers of all of the types of mats that they offer for sale.
Most  manufacturers of entrance mats would rather sell to a distributor who maintains a focus on selling entrance mats. The manufacturer would prefer to offer a discounted price to someone who buys $50,000 worth of  entrance mats from them each year than to someone who may buy only a few entry floor mats one time.  
    
As a result, the manufacturers realize that they would be cutting the throats of their customer (the master distributors like The Mad Matter, Inc.) if they were to offer their entrance mats at too discounted of a price.  That said, just because you may be buying from the manufacturer of a product, it does not logically follow that you will be getting the best price for entrance mats by buying direct.
Another fact to consider when talking with "manufacturers" is "Would they offer a competitor's product to you if it was truly one of the best entrance mats for your specific requirements?" Master Distributors like The Mad Matter, Inc. focus on the needs of the end user – not a specific product. We build our business by fitting you with the right entrance mats for the intended application. THE RIGHT ENTRANCE MATS ARE THE MOST AFFORDABLE MATS.
That said, there are also many categories of "Distributors" as well.  Some distributors sell a host of products that may also include a line of floor mats. For instance, janitorial suppliers may sell glass cleaner, floor wax, mop buckets and a line of entrance mats from one or two floor matting manufacturers.  A janitorial supplier is looking for opportunities to sell you something. He doesn't care if it might be a toilet bowl brush, floor wax or entry way mats. They are generalists, not specialists.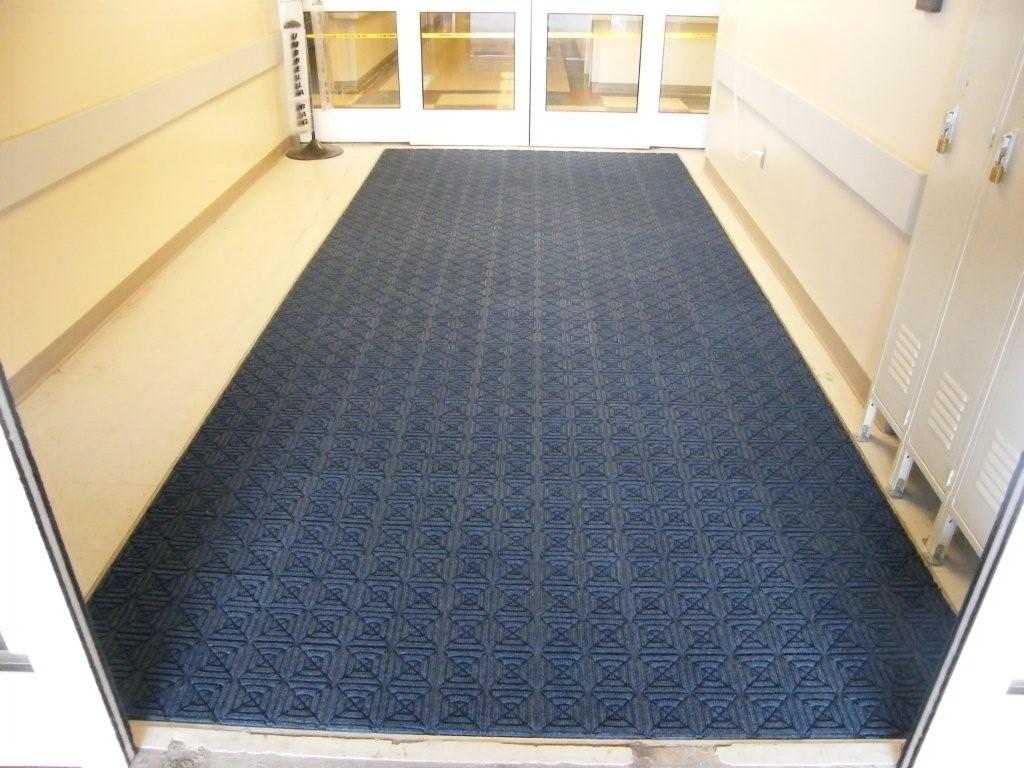 FACT:  Master Distributors, like The Mad Matter, Inc., sell floor mats. We focus on floor mats, We know about all types of floor mats. Entrance mats are but one category of floor mats.
I pose another question "Who do you think would be most qualified to offer the best selection of affordable entry mats – a janitorial supplier or a Master Distributor of floor matting?" When considering entrance mats for your particular situation, let us walk through an abbreviated process of how to choose affordable mats.  It is imperative to ask a few questions.
Are the mats to be used inside or outside?
What size would be most appropriate for your mat(s)?
How will your mat(s) be maintained?
Will your mat(s) be required to fit in a recessed depression, or lay flat on the surface?
Should your mat(s) be portable or adhered in place?
What are you expectations?  What do you want your mat(s) to accomplish?
Are there presently any mat(s) in place?  If so, are they accomplishing your objective?  If not, what are your mat(s) NOT doing that you wish that they would?
Do any doors swing out over the area where you will be using the entrance mat(s)?
What colors would best augment your entrance's color scheme and hold up to the traffic?
What type of traffic will your mat(s) need to endure?  Foot traffic, wheel chairs, carts, Heavy use, light traffic, etc.
Are there any specific issues or concerns that you may have with regard to the use of these mat(s)?
What kind of usable lifespan are you expecting to achieve from your mat(s)?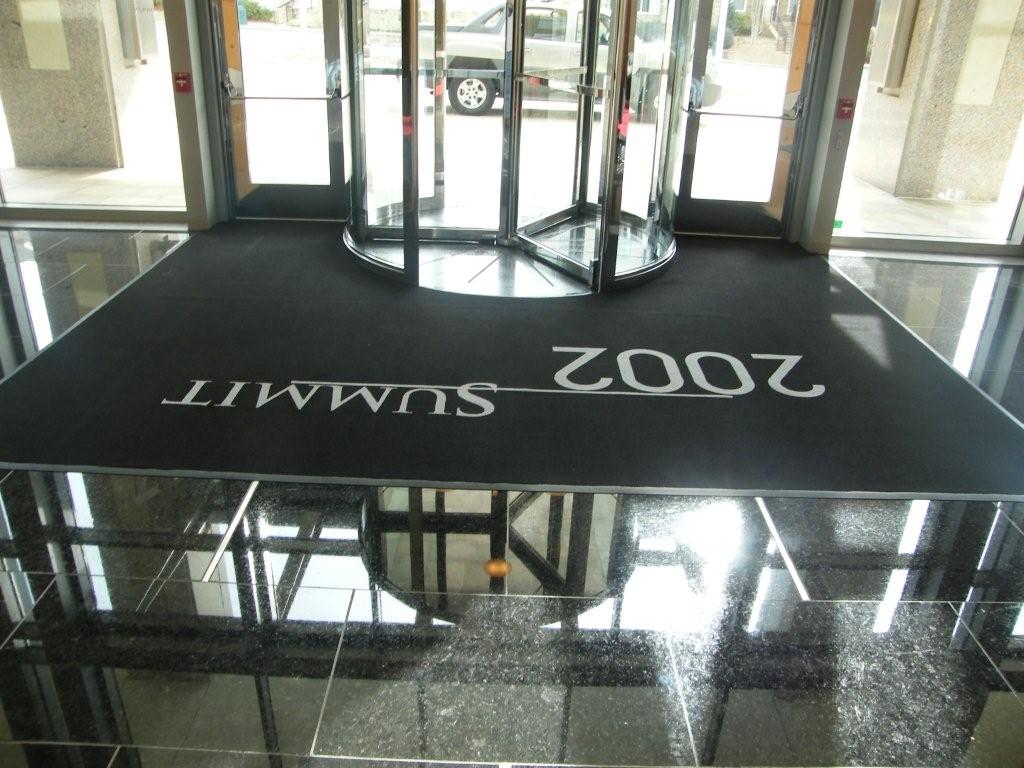 As you can see, choosing affordable entry mats is not as simple as one might think.  If you told us that the mats were to be used outside of an office building where expected traffic were to include wheelchairs, delivery hand-trucks and a high level of pedestrian foot traffic, we would recommend a certain category of floor mats.  If you told us that the entrance was rarely used, and you were only looking to safeguard your property and not to spend an arm and a leg, we would opt for an entirely different category of entry mats. Again, as you can see, what are "affordable floor mats" may well be different with any changes in your expectations.
These are but a few of the considerations that we look at when assisting you to choose the mat(s) that will be best for you. Our people are trained to ask you pertinent questions that will reveal which types of matting will fit your needs best at an affordable price. .
Other Articles of Interest
Why Renting Mats may be like Flushing Money Down The Commode