Logo Floor Mats
Logo Floor Mats For Every Application – Indoor, Outdoor, Recessed, Surface Use, Safety
SEARCH FOR YOUR COMPANY LOGO IMAGE HERE 
Piazza Logo Mats

Heavy Duty Needle Punch 52 Oz Solution Dyed Polypropylene Fiber

Beveled Rubber Edges – Available without edging for Recessed use

Berber Pattern with Rubber Crumb Backing

Available in 21 Vibrant Colors

Intricate designs utilizing Waterjet technology

Indoor or Outdoor Applications

Available in custom sizes to the inch

Roll Widths of 6′ and 12′ up to 50′ in length

Ideal for Commercial Office Buildings, Hotels, Business use, Schools and any area where high levels of foot traffic are expected

Piazza Logo Mats can be used as a free standing mat or it can be glued down for a permanent installation

Spike Proof when glued down

 

Waterhog Inlay Logo Mats

Inlay Logo Process for the Waterhog Classic Floor Mat

18 Colors made from Polypropylene Surface Fibers that Dry Quickly

Indoor or Outdoor Use – UV Stable

Molded Rubber Backing resists curling and cracking

Available in Smooth Back for hard floors or Cleated for use on Carpet

Two Edge Types – Standard Rubber or Fashion Border

Water Dam Edges prevent liquids from seeping off of mat on to surrounding floors 

Great for High Traffic Entrances

Ideal for Commercial Buildings, Hotels, Schools and Businesses

Custom Sizes in 3′, 4′ and 6′ Widths up to 60′ in length

 

Classic Impressions Logo Mats

Fine Details and Shading can be attained through digital dye print technology

Indoor Logo Mats

Nylon Surface Fibers with a Rubber Backing

Cleated or Smooth Backing for hard floors

Absorbent

25 Colors to meet any decor

Available in 3′, 4′, 5′ and 6′ Widths up to 40′ in length

Extra Large Sizes available as well in 7′, 8′, 9′, 10′, 11′ and 12′ Wide Goods up to 30′ Long

Great for use as an indoor finishing mat where a logo is desired

Ideal for Hotel Lobbies, Foyers of Office Buildings, Interior logo mats with company slogans

Classic Impressions HD Logo Mats

A High Definition Logo Mat

Great INDOOR Entrance Logo mat 

Custom shapes and sizes available upon request.

PMS color matching option for a $250 set-up charge

Heavy 32 oz/sq yd high twist, heat-set nylon face fabric.

3/16″ thick

SBR Rubber Backing/Edging

Smooth or cleated backing options

Certified Slip Resistant by National Floor Safety Institute.

Widths: 2'6″, 3′, 4′ , 5′, and 6′. Up to 40′ in length.

Rubber edges will help mat lay flat, will never crack or curl.

Grand Impressions HD Logo Mats

INDOOR Entrance Logo mat 

Custom shapes and sizes available upon request.

PMS color matching option for a $250 set-up charge

Heavy 32 oz/sq yd high twist, heat-set nylon face fabric.

5/16″ thick

Crumb Rubber Backing

Serged Border

Widths: 3′, 4′ , 5′, and 6′. Up to 40′ in length.

Great option for large quantity orders

 

 

SuperScrape Logo Mats

Vibrant images are created by molding a digitally printed polymeric material into an incredibly durable nitrile rubber matting

UV Stable so great as an outdoor logo mat

Unlimited color options – Photo image quality or you can choose from a standard color palette featuring 25 vibrant colors

PMS Color Matching at no additional expense

High Traction surface scrapes shoes clean while offering a friendly greeting or message

Resistant to Oils and Chemicals

3/8″ Overall Thickness – Low Profile – Great for Post Offices, Supermarkets, Outside Office Buildings and Hotels

7 Sizes Available

 

SandTrap Logo Mats

Heavy Duty Indoor/Outdoor Logo Mats – Inlay Logo Process

Needlepunch Construction – Solution Dyed Heavy Denier Polypropylene Fibers with a Berber Pattern

Pile Weight – 52 Oz per sq. yd.

Custom Sizes and Shapes to the inch 

Great for cut in around Revolving Doors – Cuts with a Utility Knife

Loose Lay surface mount applications with Heavy Duty Rubber Edges that are Beveled for safety

Also ideal for recessed applications of 3/8″ to 1/2″ in Depth – Specify without edging and oversize to allow onsite trimming  

Roll Sizes of 6′ 7″ and 13′ 2″ up to 101′ in length

Ideal for Large Area Logo mats in Hotels, Office Buildings, Hospitals, Team Locker Rooms, Banks, Retail Stores and areas where a high volume of traffic is anticipated

Computuft Logo Mats

Tufted Nylon Fibers that are solution dyed for colorfastness – Logo Will Not Fade

Rubber Backing with or without cleats – Rubber Edges Lay Flat

21 Colors – Up to 6 Colors per mat

UV Stable

Ideal use is as an indoor finishing or wiping mat to trap moisture from shoes before it can be tracked onto hard floors

Common Widths of 3′, 4′ and 6′ up to 40′ in Length

XL or Extra Large Logo Mats are available in 7′, 8′, 9′, 10′, 11′ and 12′ Widths up to 30′ in length

Backing consists of 20% Recycled Content

Ideal for Indoor Lobby areas of Banks, Office Buildings, Hotels and Businesses

 

Flocked Logo Mats

The Flocking Logo Process can be applied to the surface of many types of floor matting

Flocking consists of adhering nylon fibers to the surface of a floor mat utilizing a "crosslinking process"

Sharp Colors can be attained often at a lower price point than other logo processes

Pricing will fluctuate based upon the number of colors and the type of substrate floor mat – Screen Charges generally apply

Flocked Olefin mats are a popular choice for retail establishments but flocked Cocoa mats are also popular

For a better understanding of Flocked Logo Mats or to receive pricing, please call us at 800-685-1144

 

Vinyl Link Logo Mats

Non Absorbent – Durable – Heavy Duty Vinyl Links threaded with galvanized steel rods to form attractive entrance mats that will last for many years

Popular with military, school and athletic venues

Available with Beveled Edging for Surface Application and also with Square Edges for recessed applications

All Weather – Great for Outdoor Use

14 Colors

All Vinyl Link Logo Mats are Made In The USA

Call 800-685-1144 for More Info

 

Legacy Logo Mats

Unique "3D Hi Tech Cubic" Pattern with Inlay Logo Process

NEW – Indoor or Outdoor Use

Beveled Edges with Standard Rubber or Fashion Border Profile

Available in Gripper Backed for use on carpeted surfaces or with a smooth backing for use on top of hard floors

Waterhog mat construction with raised rubber nubs under the profile design to raise foot traffic above any water or dirt that may accumulate on the mat –

19 Colors that are UV Stable

Great for High Traffic Areas Indoor or Outdoor

Schools, Hotels, Office Buildings, Banks, Hospitals, Businesses

A great Logo Mat that not only looks great – It performs too!

 

Hog Heaven Logo Mats

When an Anti-Fatigue Mat needs a company logo Hog Heaven Logo Mats are the answer

Photo Quality images or messages are created by molding a digitally printed polymeric material into the surface skin of the Hog Heaven Anti-Fatigue Matting

Beveled Edging to reduce trip hazards.

Unlimited Colors from which to choose

5/8″ Thickness

Standard Sizes:  2'x3′, 3'x5′, 4'x6′ and 3'x12′

Oil and Chemical Resistant

Textured Surface for enhanced traction

Call 800-685-1144 for more information

Hog Heaven Sign

A Safety Anti-Fatigue Logo Mat.

Pick from a variety of 26 different messages

Available in 5/8″ or 7/8″ thicknesses

Surface that is Chemical Resistant as well as Grease & Oil Proof.

Available in Black or OSHA approved Yellow border.

Beveled Edging to prevent trip and fall injury.

Composed of a Closed cell Nitrile blended cushion.

Common Use: Industrial applications, Garages, or were a safety message needs to be conveyed.

 

Recessed Floor Mat Logo Mats – DiamondStrip Inlay

State of the Art Inlay Logo Process applied to the popular recessed aluminum footgrilles and roll-up mats

Utilizing either Piazza or SandTrap matting, we produce an inlaid logo for your existing or new recessed floor mat

Each logo requires analysis to determine whether or not it can be inlaid into the recessed mat

Refurbish your existing mat or Order New

3/8′, 3/4″ and Deep Pit Footgrilles of 1-3/4″ Thickness are all candidates for this process

Simple to install – Extremely Durable

Indoor or Outdoor Use

Call 800-685-1144 for more information
24-7 Anti-Fatigue Interlock Logo Tiles w/ US Coast Guard Crest

Strategically placed logo at the entryway to a Captain's Bridge

Entire anti-fatigue flooring was built around the placement of this and another logo pictured below

Call 800-685-1144 for assistance in transforming your work area to one that is not only comfortable and functional but also into an area that reflects pride.
Need Help Choosing The Best Logo Mats?
What Describes You or Your Company Best?
CHOOSE BELOW
Logo mats are an opportunity to make a great first impression to visitors and potential customers. The proper logo mats can also provide the first line of defense against dirt, grime, and moisture, keeping them from entering your building. Which logo mats are the best logo mats for your particular application will depend upon your specific requirements, desires, and the location of the mats.
Logo entrance mats are always custom floor mats. Custom logo mats not only look great, but they can also help to maintain that "Class A" appearance that helps to keep occupancy and lease rates up and "Slip and Falls" down. The designing of custom logo mats for a building or business can be a fun and creative undertaking. Whether  you want the custom mats to simply have a building's name or address, or some custom design, logo mats can really make a statement.
One can even use specially cut or shaped logo mats to accentuate the architectural lines within a lobby. To achieve the best results, custom logo mats require precision with regard to fabrication and installation. There are many logo mat processes available and each process offers features and benefits that others may not. Custom logo mats for outdoor use should utilize either an inlay, rubber onlay, or flocking process, and be made of a product that will dry quickly and be able to withstand the abuse from mother nature.
| | |
| --- | --- |
| | |
Logo mats that will be used inside can use virtually any of the logo processes available. However, what type of flooring the logo mats will be placed upon will often dictate which type of mat will be most appropriate. Should your requirements be for large logo mats or logo mats with an odd configuration (i.e, cut in around a revolving door, etc.), we may suggest products using the inlay process. Custom logo mats will often take a little bit more effort to achieve optimal results. If you put in the effort to address the specific issues that your building faces, you will be able to outfit your entrance with the best logo mats possible.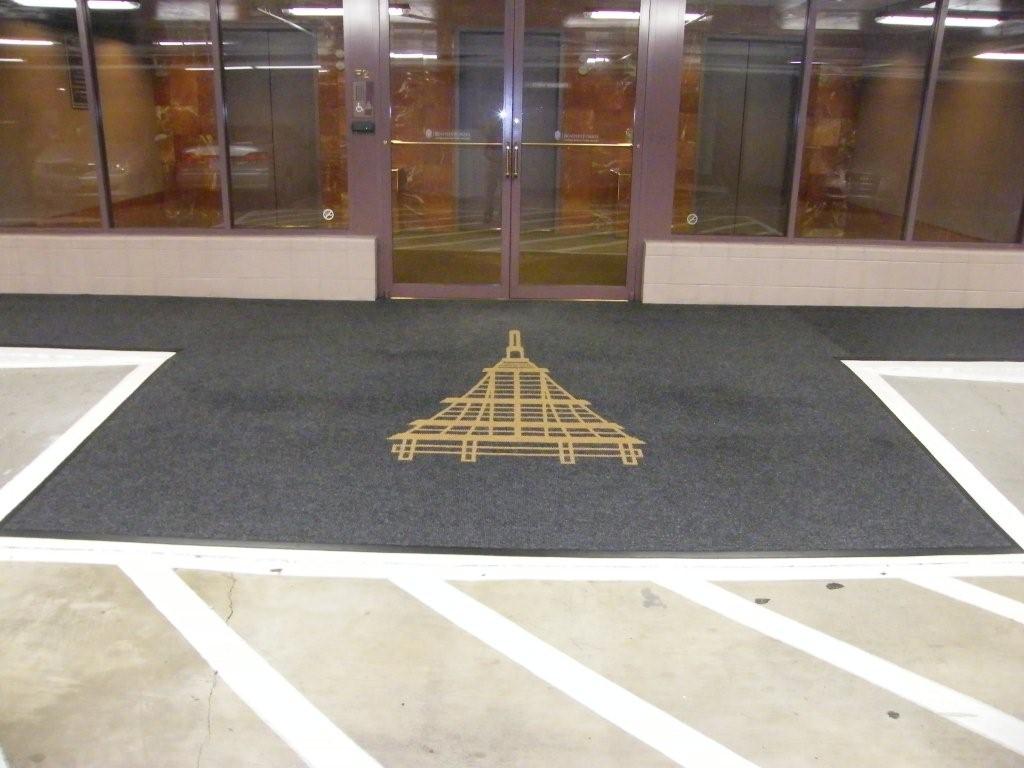 We recommend that you allow us to take a "Socratic" approach in helping you choose the best logo mats for your building or business.  We do this by asking specific and targeted questions and the answers to these questions tend to reveal which logo mats will and will not be acceptable choices for you, the end user. 
While we can not cover every possible factor that you or your building should take into consideration in this format, it may be helpful to address the following questions and issues as you attempt to choose the best logo mats for your entrance. Should you take the time to thoughtfully answer these questions, you will be armed with much of the information necessary to make the best decision regarding which logo mats will best fit your needs.

Will these mats be used as Indoor logo mats or as Outdoor logo mats?

Are you seeking a High End logo mats – Mid Grade or Low End logo mats?  

What is the purpose of having customized logo mats at this location? What are you trying to achieve with using logo mats?

Will the floor mat be recessed in a pit or used as a surface logo mat?

Will the logo mats need to be glued down or will it be a loose laying floor mat that can be picked up and moved?
What colors are you seeking for your logo mats? Do they offer good contrast? Do the colors augment or detract from the overall aesthetics of the area?

Will these logo mats stay in place all of the time or will they need to be picked up, stored and only used at certain times (i.e., inclement weather, etc.)

How will these logo mats be maintained and who will provide the maintenance? Does your cleaning staff possess the knowledge and/or equipment to protect your investment?

What would the overall size of the "Ideal" logo mats be?

Will there be any special type of traffic traversing over these logo mats (i.e., wheeled traffic, delivery handtrucks, pallet jacks, etc.)?

Will there be any specific soil concerns that may 

come in contact with your logo mats?  (i.e., oils, greases, etc.)

Will your finished logo mats need to be custom cut around a revolving door, be recessed or require some sort of custom configuration?

What type of useable life span are you seeking for these logo mats?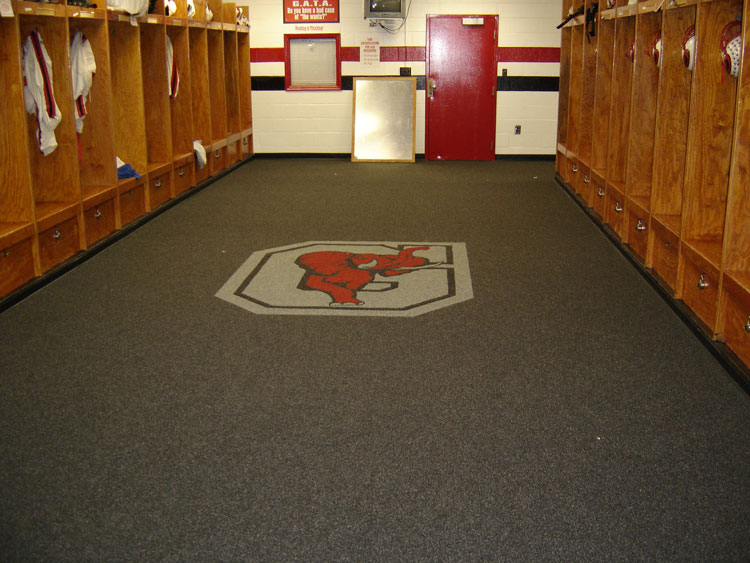 How many logo mats are you looking for? Will they all be the same size?

What is your budget for logo mats?  

How complex is the design of your logo? Will the logo mats be too "busy"?

What colors are you seeking in the finished custom floor mat?

Will the logo mats be permanently glued in place or "free-standing" entrance matting?

How will the logo mats be maintained?

What "look" are you trying to achieve with your custom logo mats?  (i.e., Class A, Uniformity, etc.)

How large do you want your logo mats to be and how large do you want the overall design of the logo to be?
We offer approximately 15 different styles of custom logo mats. Each process is designed to utilize a blend of materials to result in the end logo mats possessing specific qualities – qualities like the desired look, performance, price, and application will help us to choose which of our custom logo mats will work best for you.